Growing in popularity, kitchen peninsula ideas are quickly becoming a favorite design for homeowners who want to combine the versatility of an island but save space in their layout.
So, when you are researching your kitchen ideas, take a moment to consider whether a peninsula might be a better fit for your home and lifestyle. Including storage, seating and work space, there isn't a need this stylish addition can't meet.
Kitchen peninsula ideas
While kitchen islands has been rampant in kitchen layout ideas for the past four decades, it seems that the peninsula is making strides to take its place as the must-have kitchen feature.
The word peninsula can be etymologically broken down to mean 'almost an island' and that is exactly what it is. Geographically, a peninsula is a land mass surrounded by water on all but one side. In the kitchen, a peninsula is a work space that is surrounded by space and all its sides except one – which is attached to the wall.
A peninsula can work as a demarcation zone or as a multi-function area, for example doubling worktop space and dining room. This is a great feature to help you get an island-like look in a more compact space. It's also an incredibly versatile piece, as it can be designed around existing architectural features (such as a supporting pillar) to make the most of the available space,' explains Melissa Klink, creative director at Harvey Jones (opens in new tab).
1. Use a peninsula to zone your kitchen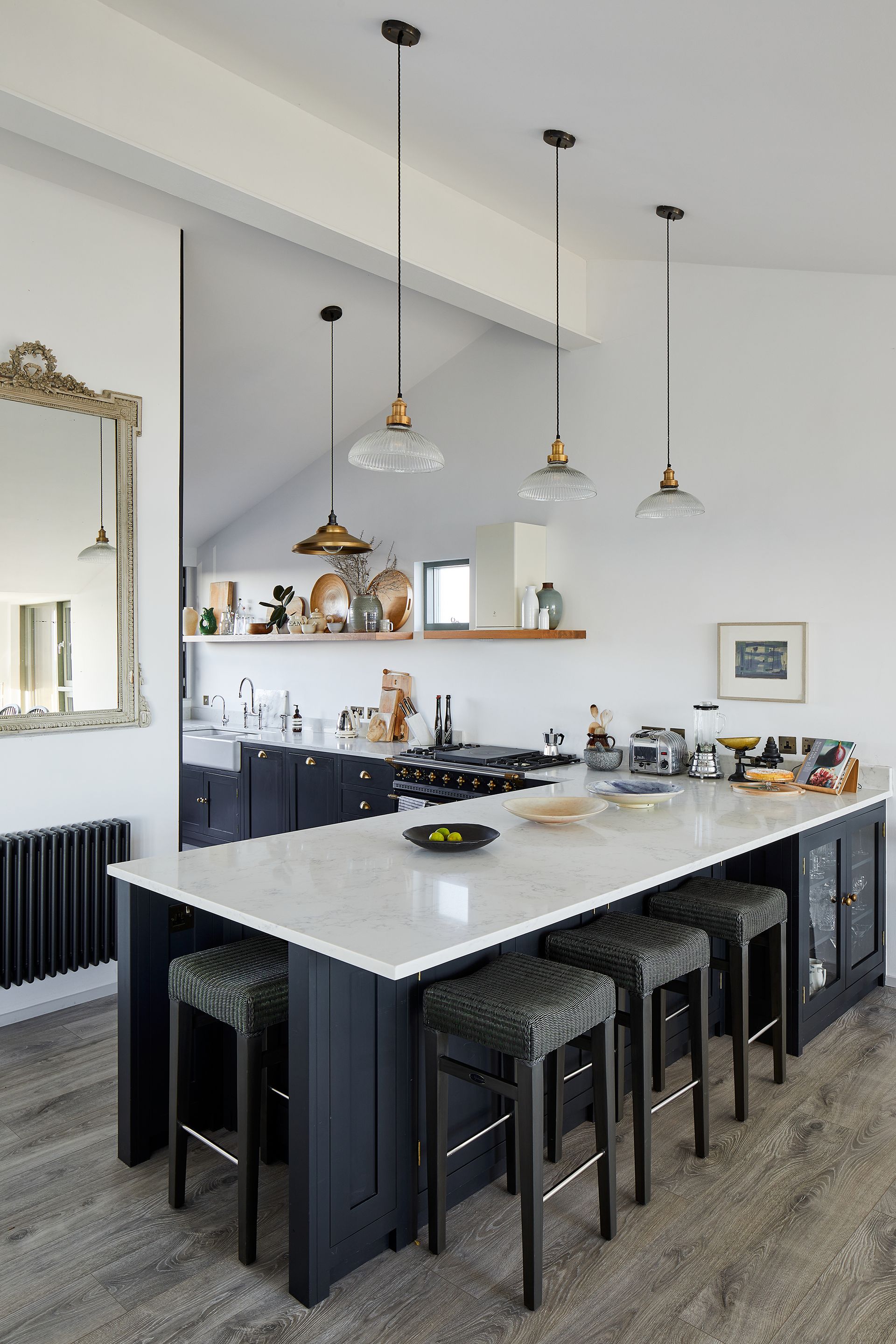 The rise of open plan kitchen ideas has meant that zoning has become an important part of kitchen design. The peninsula provides the divider, creating a U-shaped kitchen that physically separates the work area from the living space – as seen in this design from The Main Company.
'As we all start to design our homes with our daily requirements in mind, 'broken plan' living is becoming a more functional solution to modern living. Broken plan makes full use of an open plan scheme, but focuses on creating individual functioning zones within the space for eating, cooking, working, etc. Incorporating a peninsula into your kitchen can be the first step to achieving this lifestyle. A multi-functional feature, they can be used as a working, dining and food preparation space, as well as giving you plenty of storage options and helping with the zoning of the space,' says Graeme Smith, Head of Retail and Commercial designed at Life Kitchens (opens in new tab).
2. Incorporate a seating area on the back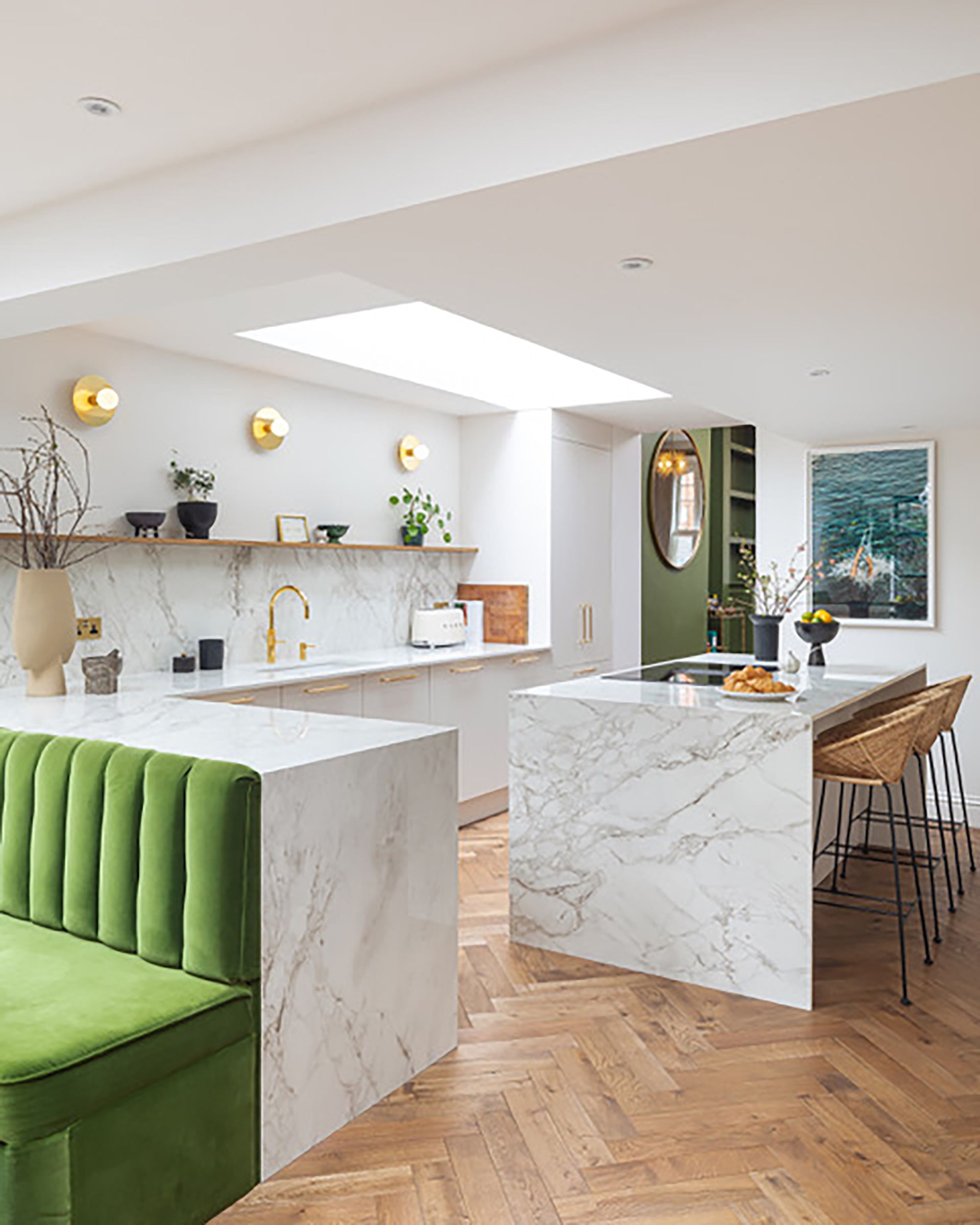 While you can easily add bar stools to a kitchen island, kitchen island seating ideas can sometimes feel awkward and unsociable. Kitchen peninsula ideas, on the other hand, offer the perfect opportunity to integrate banquette kitchen seating ideas to create a friendly, relaxed space – perfect for relaxing and casual dining. In this kitchen, designed by John Lewis of Hungerford (opens in new tab)luxurious green velvet banquette seating adds a colorful contrast to the marble counter, giving this elegant kitchen a modern lifestyle edge.
3. Create a versatile focal point in the kitchen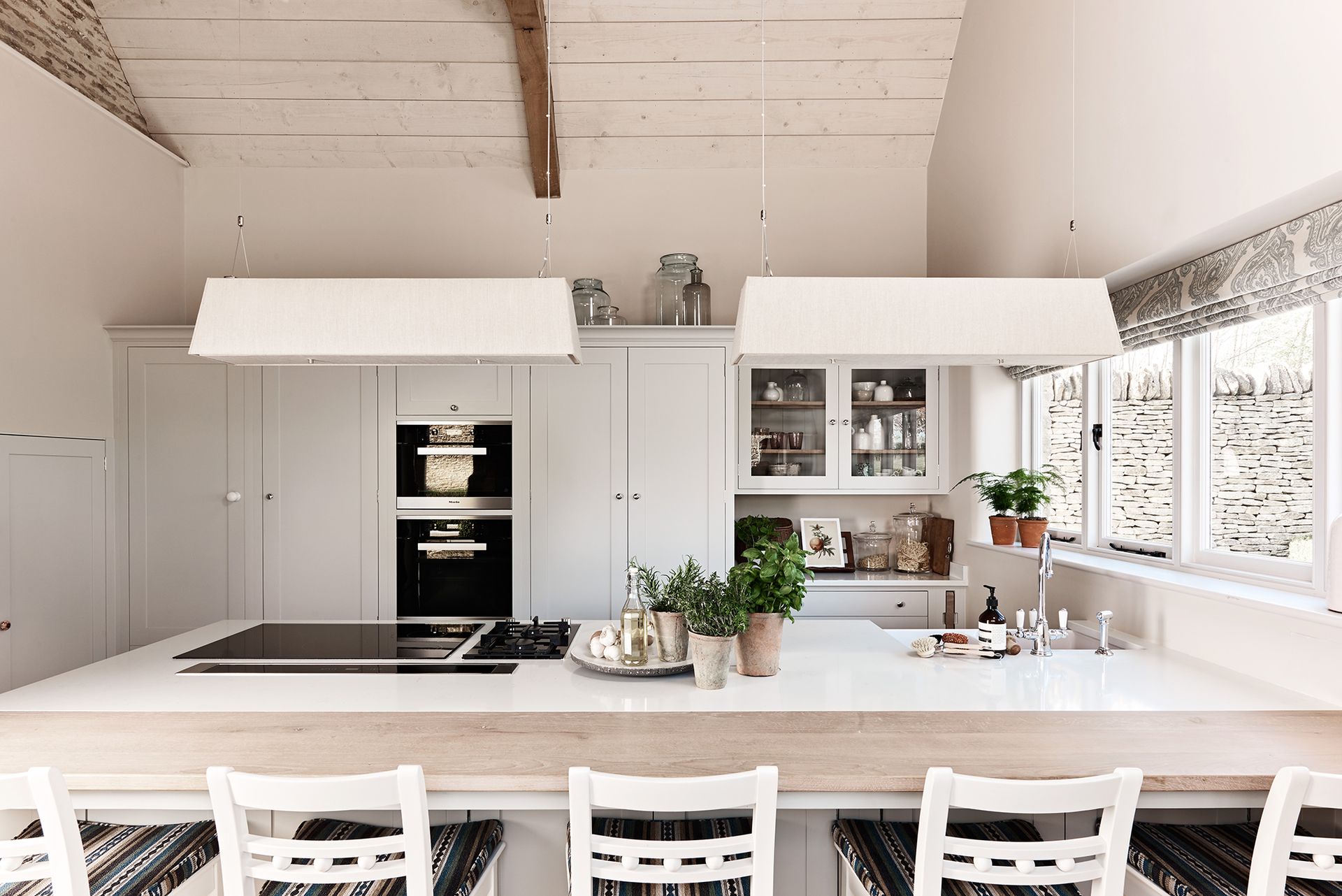 When it comes to functionality, choosing a kitchen peninsula ideas over an island doesn't mean you have to compromise. A peninsula was the better option in this country kitchen because of the width of the room. By fixing one side of the peninsula to the wall, we were able to install a large and functional space that included a hob, a sink and space for five seats, while still leaving enough space for a cupboard on the other side allows,' says Louise Wicksteed, designer. director for Sims Hilditch (opens in new tab).
4. Opt for mixed countertop materials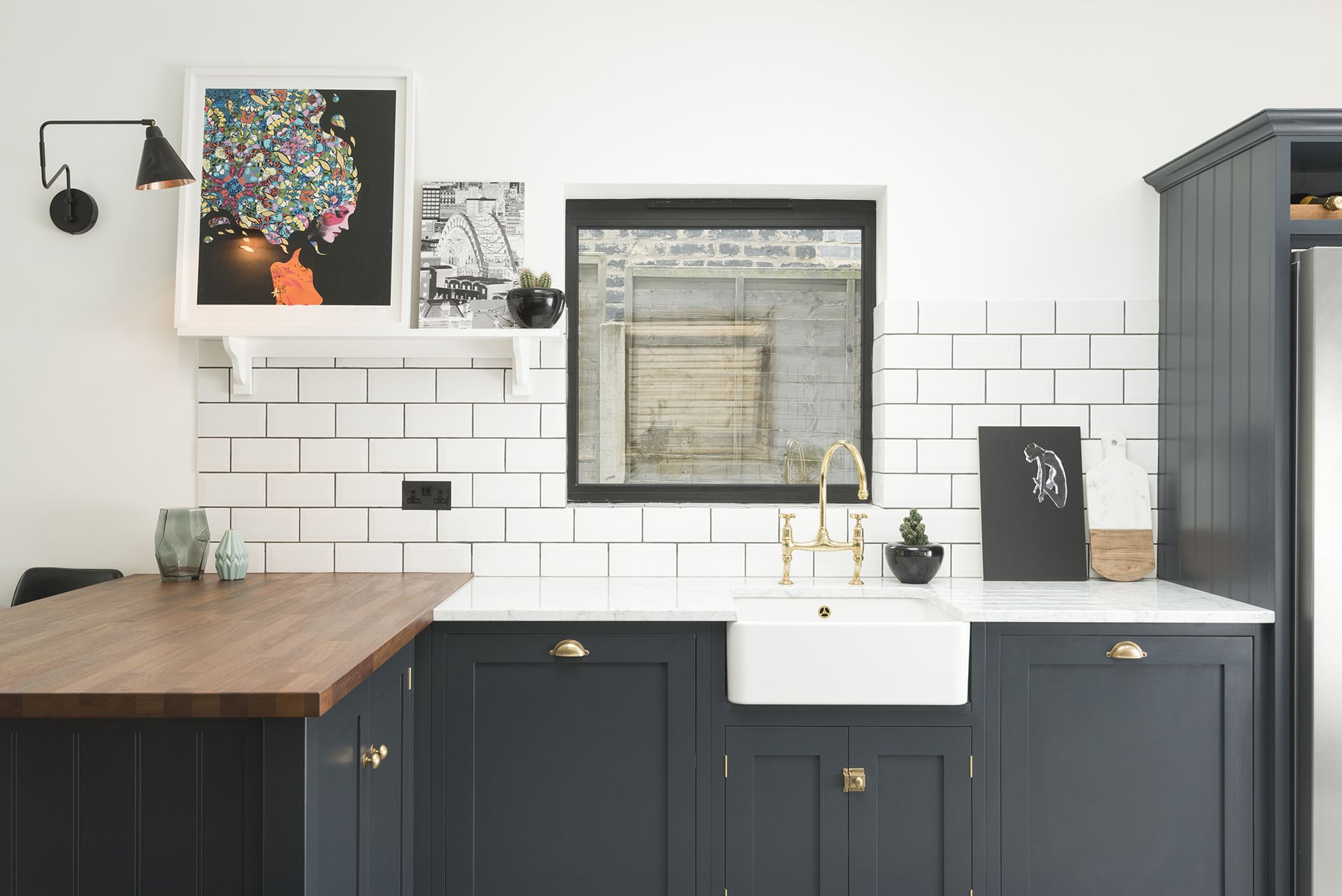 Take the versatility of your kitchen peninsula ideas to the next level by opting for a worktop that meets all your needs. In this space, designed by Devol (opens in new tab)marble counters on either side of the sink provide a practical work space, while a softer wood material on the arm of the peninsula is perfect for serving and eating, as well as bringing a new texture to the space.
5. Light over the peninsula like an island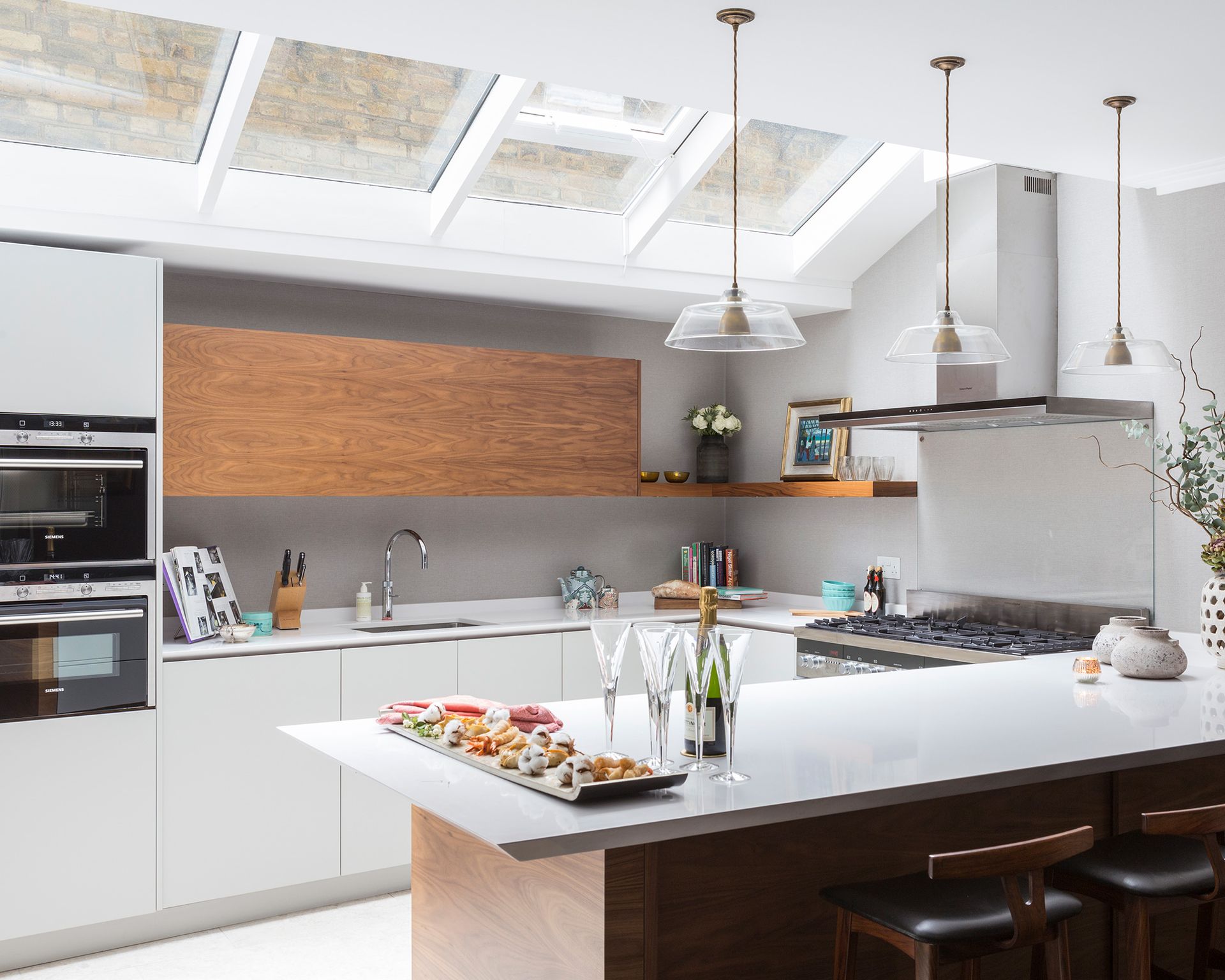 Never underestimate lighting. It has the power to transform the look and feel of a space with just the flip of a switch. We all know the rules about hanging lights over an island, but what about an off-center design peninsula? Rather than a single pendant that will be out of whack with the rest of the room, opt for a triptych that will provide both a balanced look and even light throw.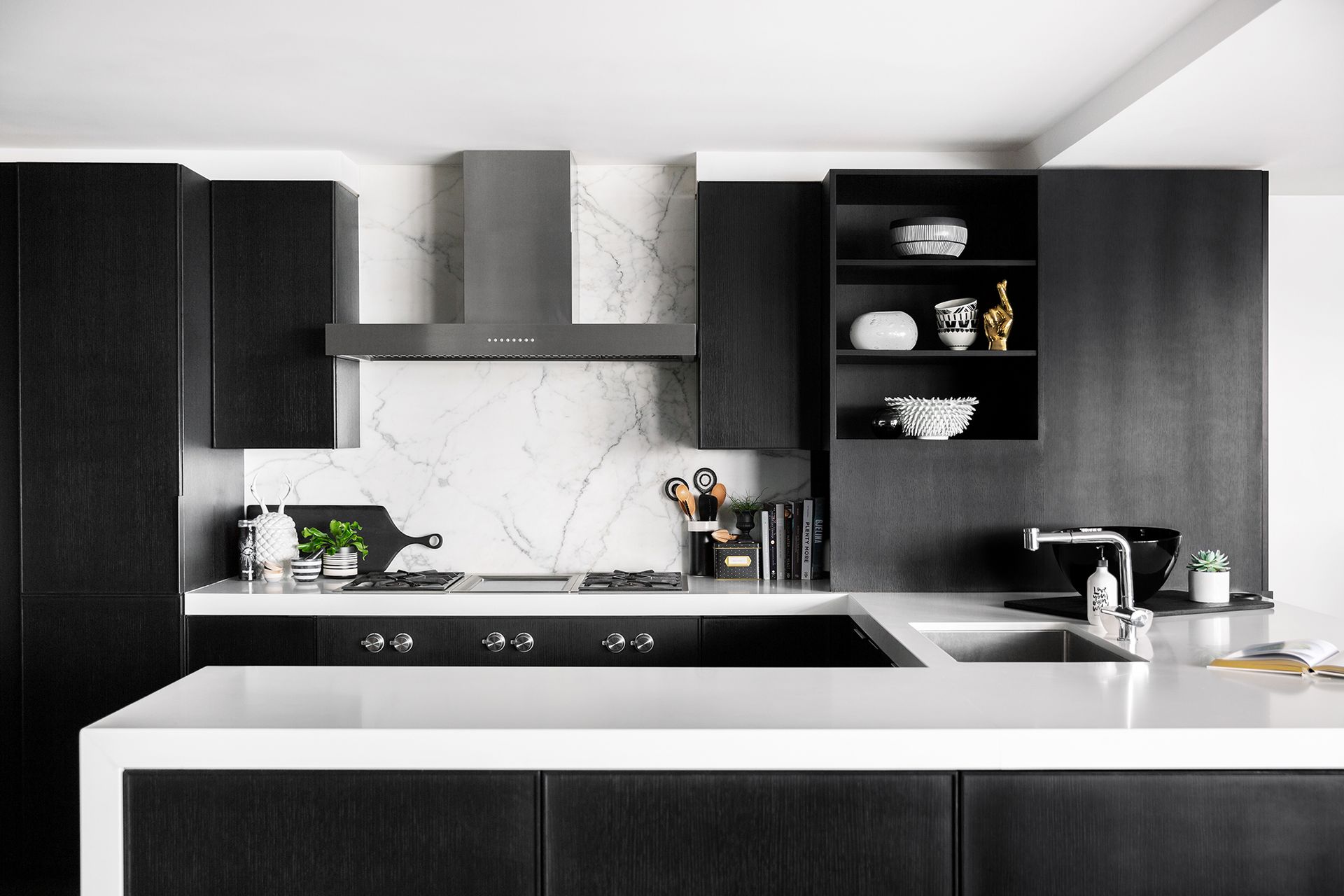 Create a high-drama kitchen by pairing kitchen peninsula ideas with black and white kitchen ideas. 'Almost equal amounts of black and white with earthy marble marrying the two. With limited square footage, a yield gives you the benefits of a kitchen island without the large footprint. This is one of the best space saving ways to get storage, seating and extra serving/work stations. Both sides open for maximum storage,' says Tiffani Baumgart, founder of Tiffani B Interiors (opens in new tab).
7. Double with an island and a peninsula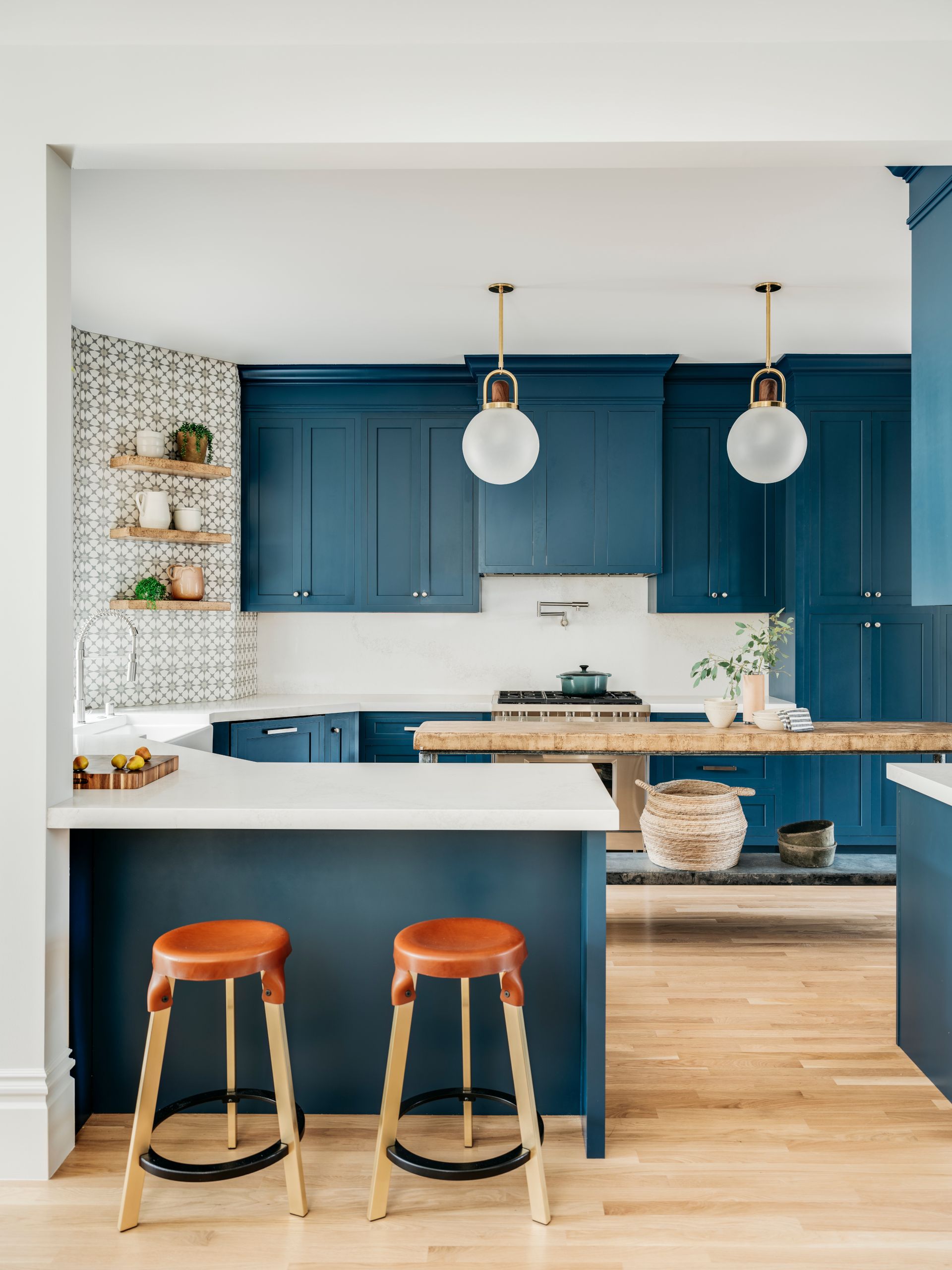 If you have the space, why not double down and include both a peninsula and an island in your kitchen design? Combining the best of both worlds, the peninsula helps contain the workspace in the kitchen – and provides seating – while reserving the slim, reclaimed wood island as a functional workspace.
8. Combine a peninsula with patio doors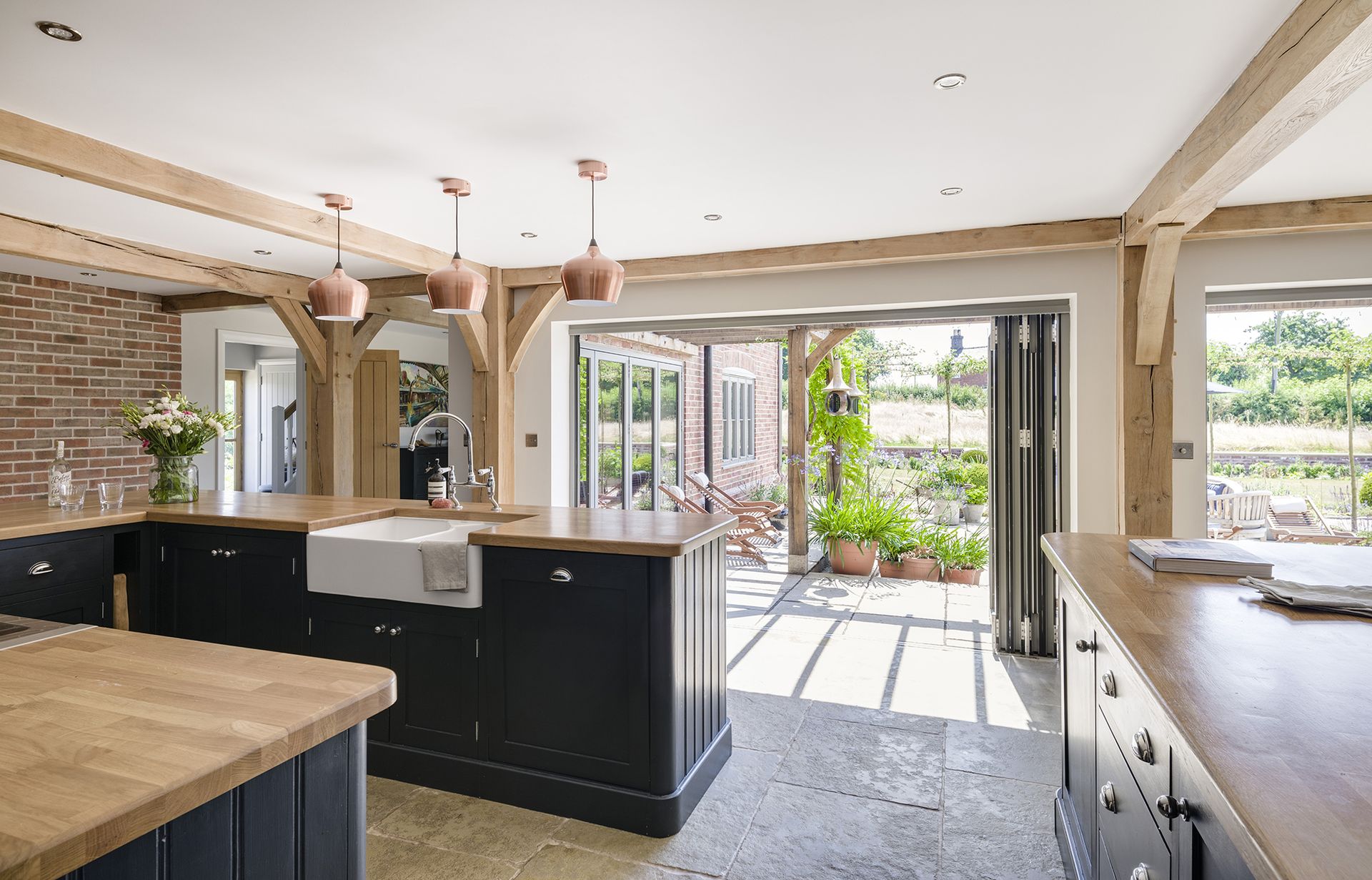 The kitchen peninsula is the perfect partner for an indoor-outdoor kitchen, as seen in this kitchen extension by Border Oak (opens in new tab). When placed opposite sliding or bi-fold doors, the peninsula arm provides the perfect connection point between the indoor kitchen and the outdoor dining area – ideal for serving food or drinks. But in the colder months, the addition of bar stools brings the dining area inside, with the peninsula ensuring the kitchen works to the best of its ability throughout the year.
9. Use the kitchen peninsula to add pattern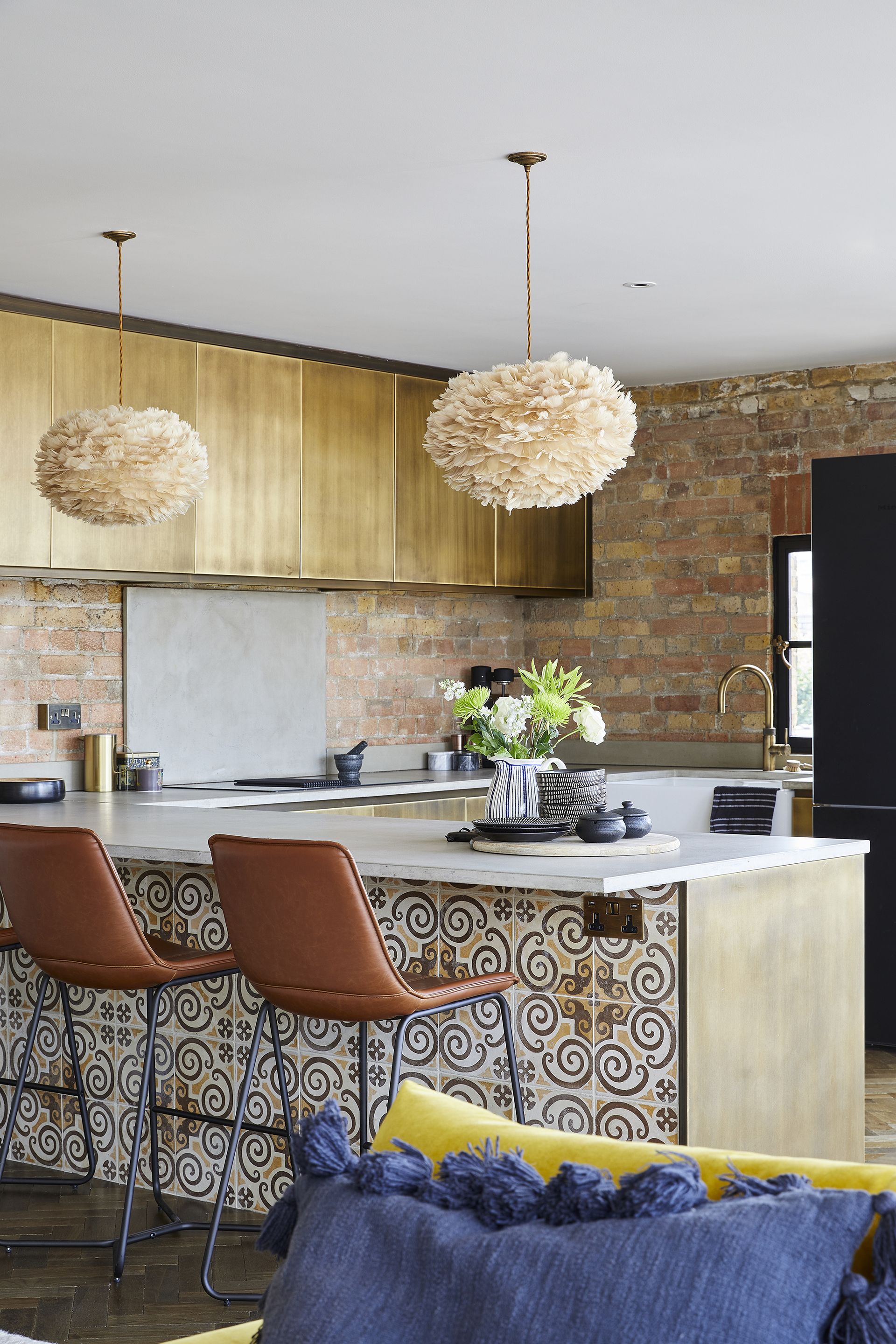 Any empty surface offers the opportunity to bring pattern and color to your kitchen. In this small space, reclaimed tiles by Bert and May add to the boho kitchen decor and give an otherwise understated design a burst of color and texture, connecting the space with the decorative living area beyond.
Which kitchen island or peninsula is better?
For a small kitchen, a peninsula is a better option as it offers the same functionality as an island, but with a smaller footprint. If your kitchen is part of an open plan layout, then you need to think about how you want the space to feel. If you want your kitchen to blend seamlessly with the wider living area, an island is the better option. However, if you want your kitchen area to be more zoned, opt for a peninsula.
If you have the space, why not include both an island and a peninsula to enjoy the benefits of each design element?
Can you put a peninsula in a small kitchen?
Yes, you can put a peninsula in a small kitchen – in fact, it's a good idea. Not only does this maximize the available footprint, but it also gives you greater flexibility in the way you use your space. From meal prep to dining and entertaining, a peninsula can be a transformative addition to your space.