Take your creativity to the next level with the best sewing room ideas that will take pride of place in your home. The key to creating a sewing room to rival that of your favorite craft store is to ensure your space is well organized.
Think of this craft room or home office space as an extension of you. After all, if you love sewing, knitting or crafting, you'll be spending a lot of your free time here, so you want it to reflect your best and most joyful self. First, take inventory of everything you have and need, then consider the layout, color scheme and storage ideas.
Sewing room ideas
Sewing rooms have become more and more popular, especially over the pandemic, where more and more people have taken up sewing as a hobby. When it comes to designing a sewing room or home office setup, practicality is essential, but equally important is putting together a space that is creative, inspiring and homely.
1. Focus on good storage
"My studio is a joyful retreat at the end of our backyard!" says Molly Mahon, founder of Molly Mahon (opens in new tab). 'The focal point is a wooden cabinet which I painted to add character and make the space more personal to me. I find it really helpful to display as many of the tools of my trade as possible so I can find things easily. Open shelving for your home office storage is a must – mine is always overflowing with books and I use a lot of our hand block printed storage boxes to store smaller items. They're fun to look at and prove that practically doesn't have to mean boring!'
'Here, a large table is an essential piece of kit in any craft or sewing room, and this means we were able to reclaim the kitchen table for regular family life.'
2. Include lots of natural light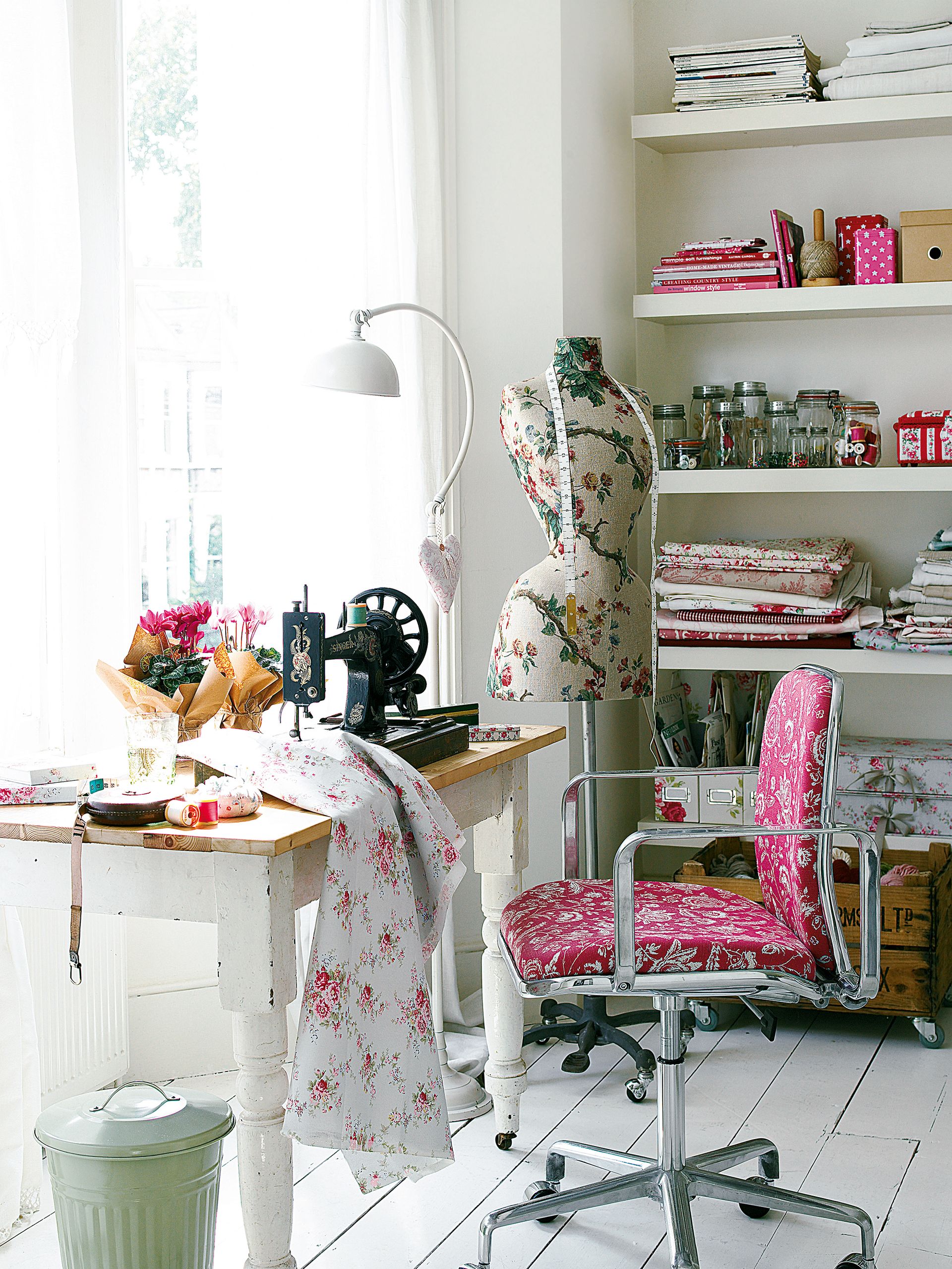 'Natural light is a key ingredient for sewing rooms, so place your table and sewing machine in front of a window,' says Melanie Griffiths, editor of Period Living. "If it faces south and the sun gets a little too bright, hang some simple curtains of thin cotton that will block it out a bit, but still ensure you get the light."
If your room lacks sunlight, then look to include enough home office lighting to keep this room usable longer.
3. Get a vintage desk and chair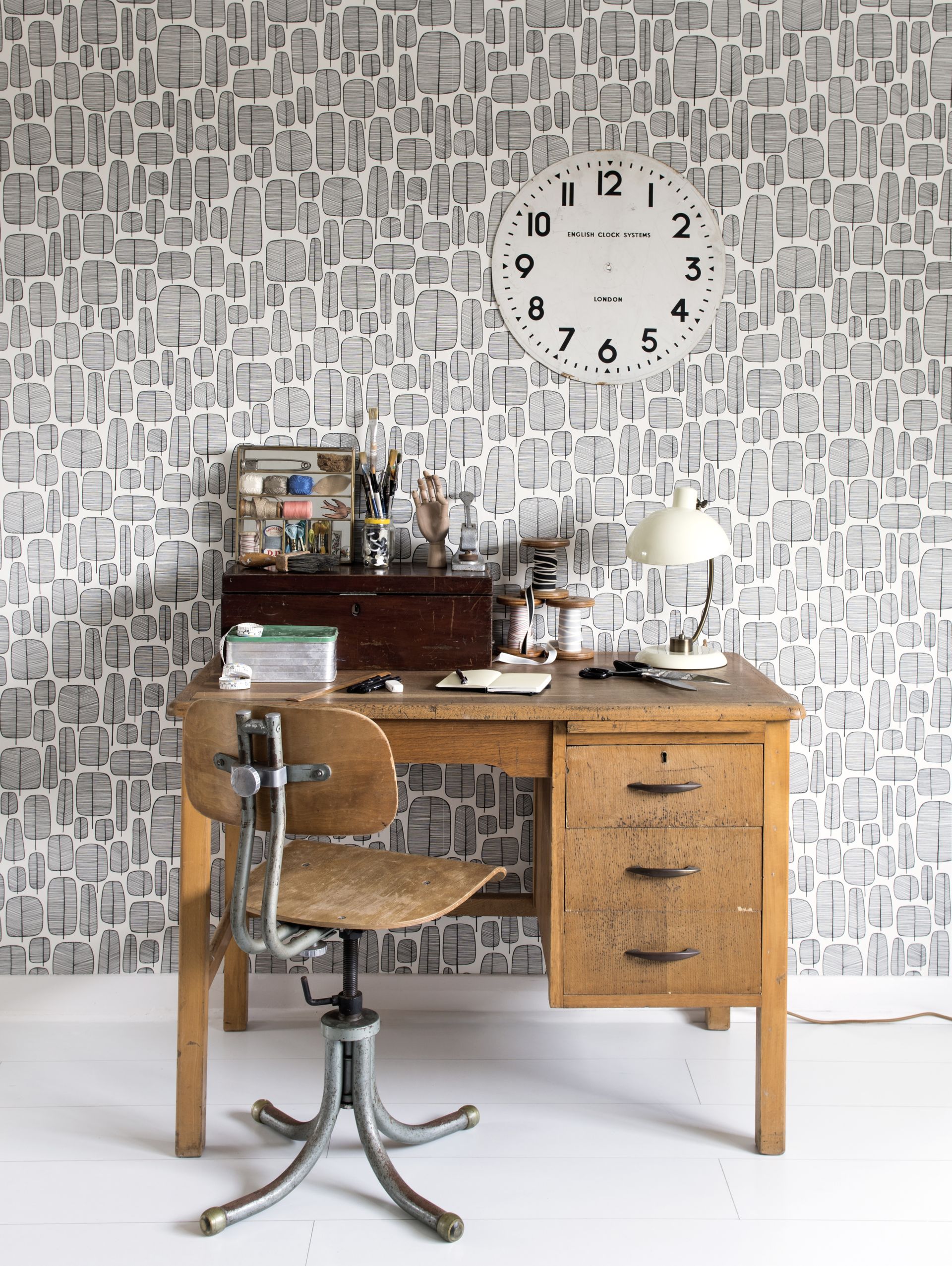 "Add character to your sewing room with a flea market find, like this desk and chair," says Andrea Childs, editor of Period Living. A design with drawers is optimal in a sewing room – use them for patterns, equipment and notebooks. Choose a wallpaper design to suit your scheme, Miss Print has a great retro range that will add character to your space.'
4. Double with two desks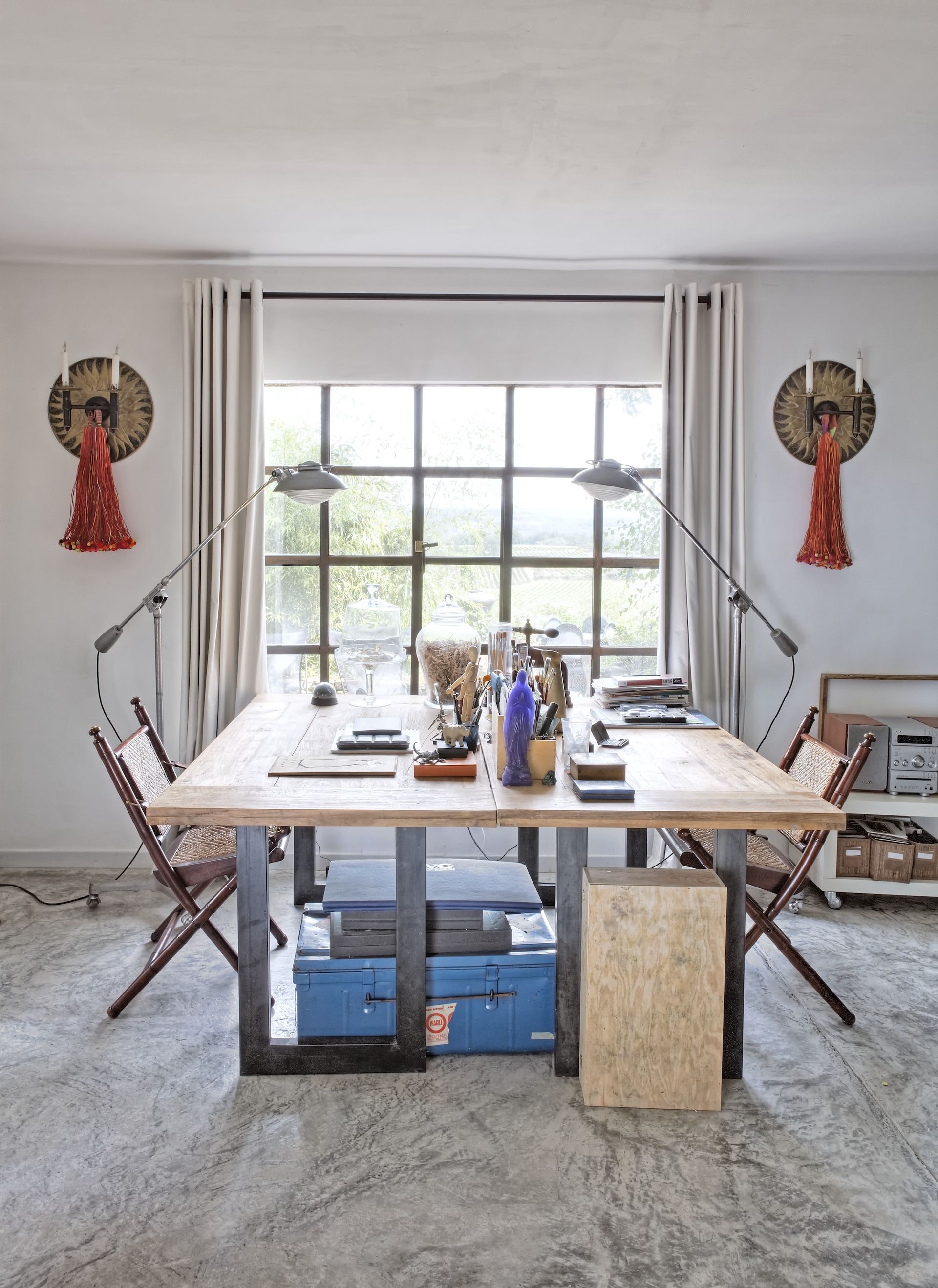 'Nothing beats a touch of symmetry in interior design – give it a go in your sewing or craft space,' says Lucy Searle, global editor-in-chief, Homes & Gardens. 'Two desks pushed together will give you enough space to spread out, or allow you to share the space. Matching floor lights add height and of course practicality and a tiled floor makes mopping up much easier.'
5. Convert an unused corner into a sewing space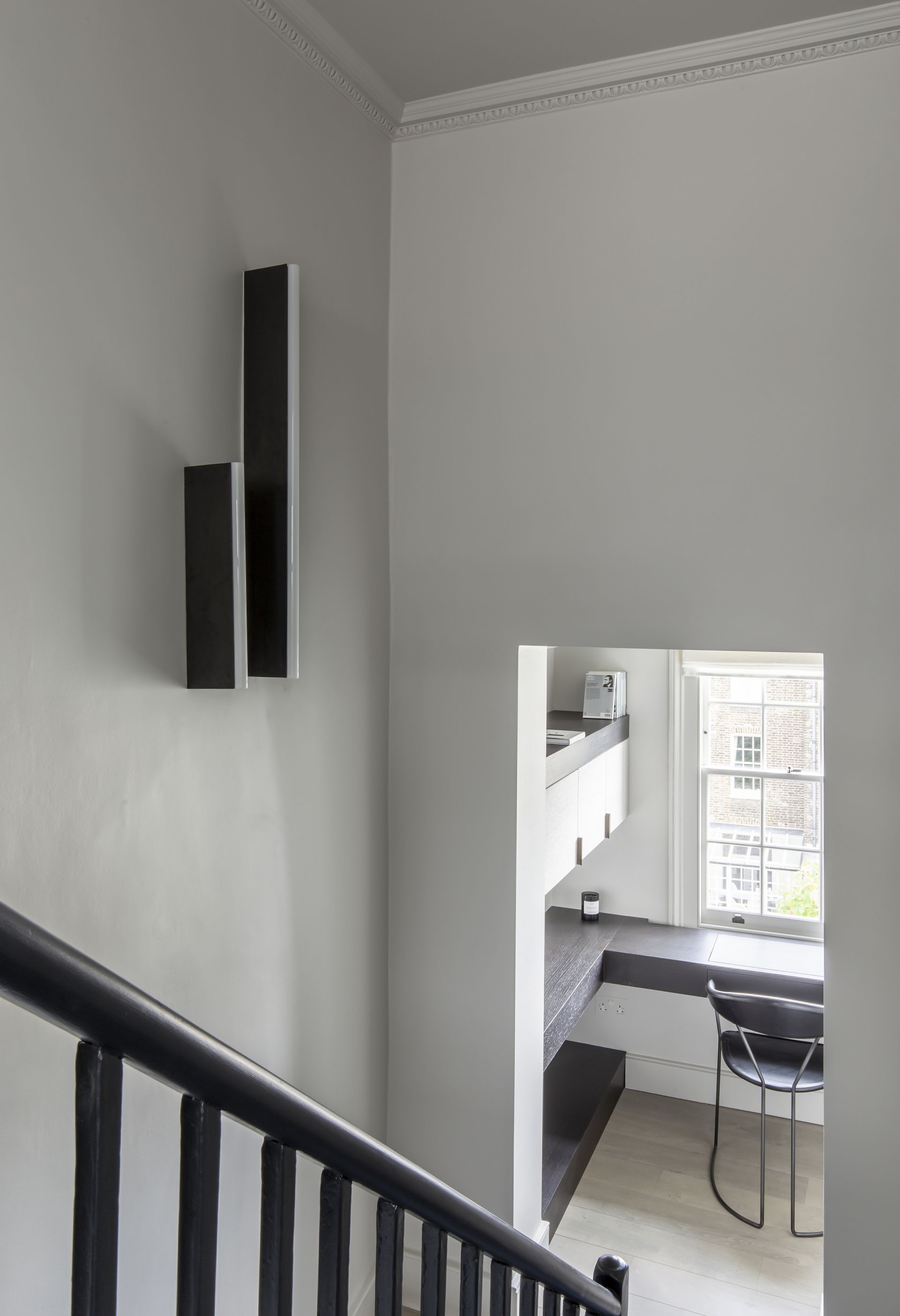 "Incorporating a sewing room into a home can be difficult, especially if space is limited," says Tom Rutt, director of TR Studio (opens in new tab). 'That's why it's key to consider hybrid function rooms, for example, a small box room can be both a craft space, and also be the perfect room for art or sewing.'
'When designing such a room, consider maximizing storage by using, where possible, floor-to-ceiling shelving and hidden drawers. A built-in custom desk area would be a valuable design addition. Placed under a window it will not only provide natural light for tasks, but also provide inspiration and a connection to the outside world.'
6. Go overboard with your lighting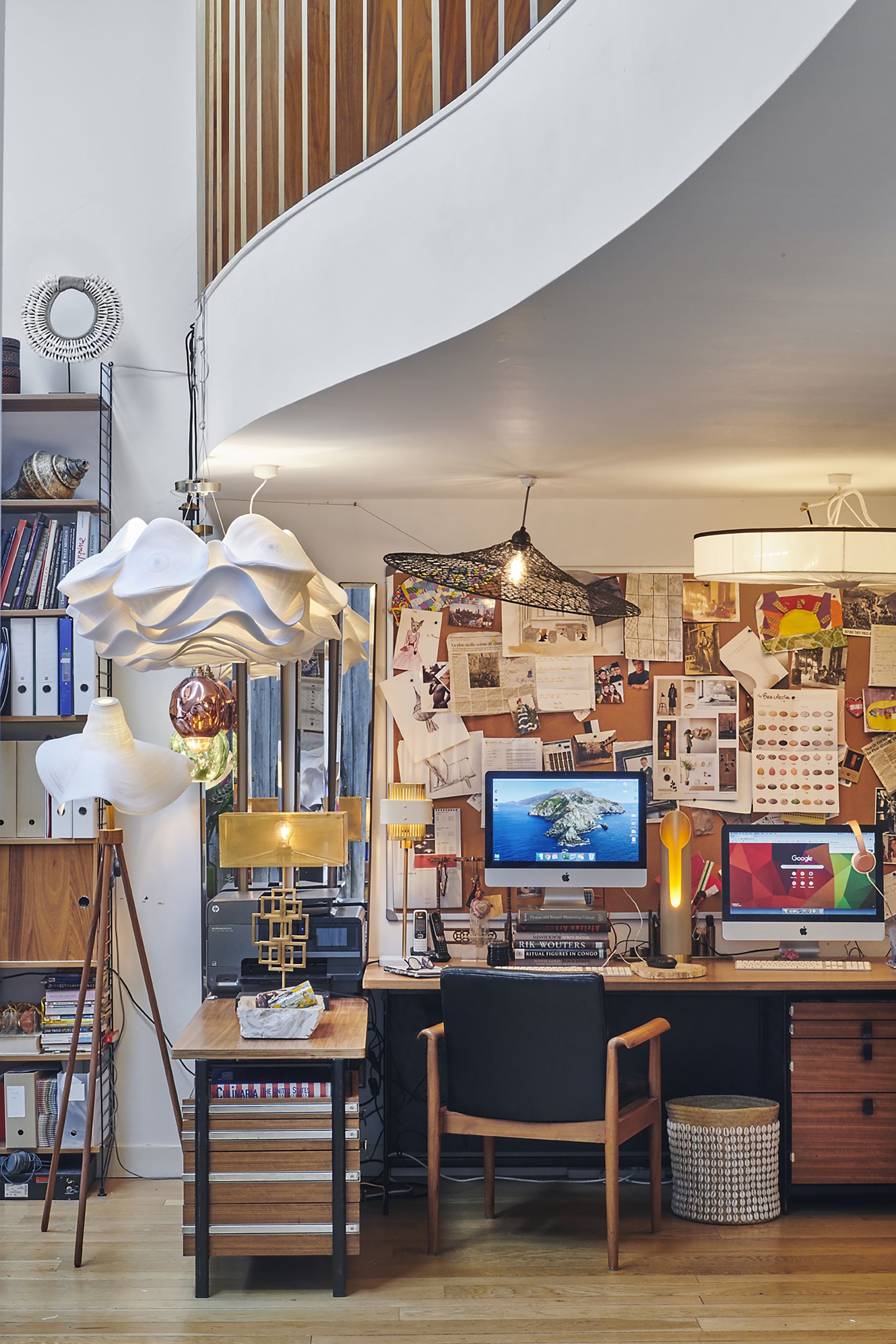 In a multipurpose space that may include sewing and design, it is important to light the area well:
'Lighting is essential in a sewing room to avoid any eye strain,' says Jo Plismy, founder of Gong (opens in new tab). 'The room should have a good level of bright ambient lighting, as well as task lighting for particularly detailed or complex work. Angled desk lamps or adjustable wall lights are a good choice to allow the light to be directed exactly where it is needed. Choose white bulbs rather than yellow which can contribute to eye strain.'
7. Devote a space for arts and crafts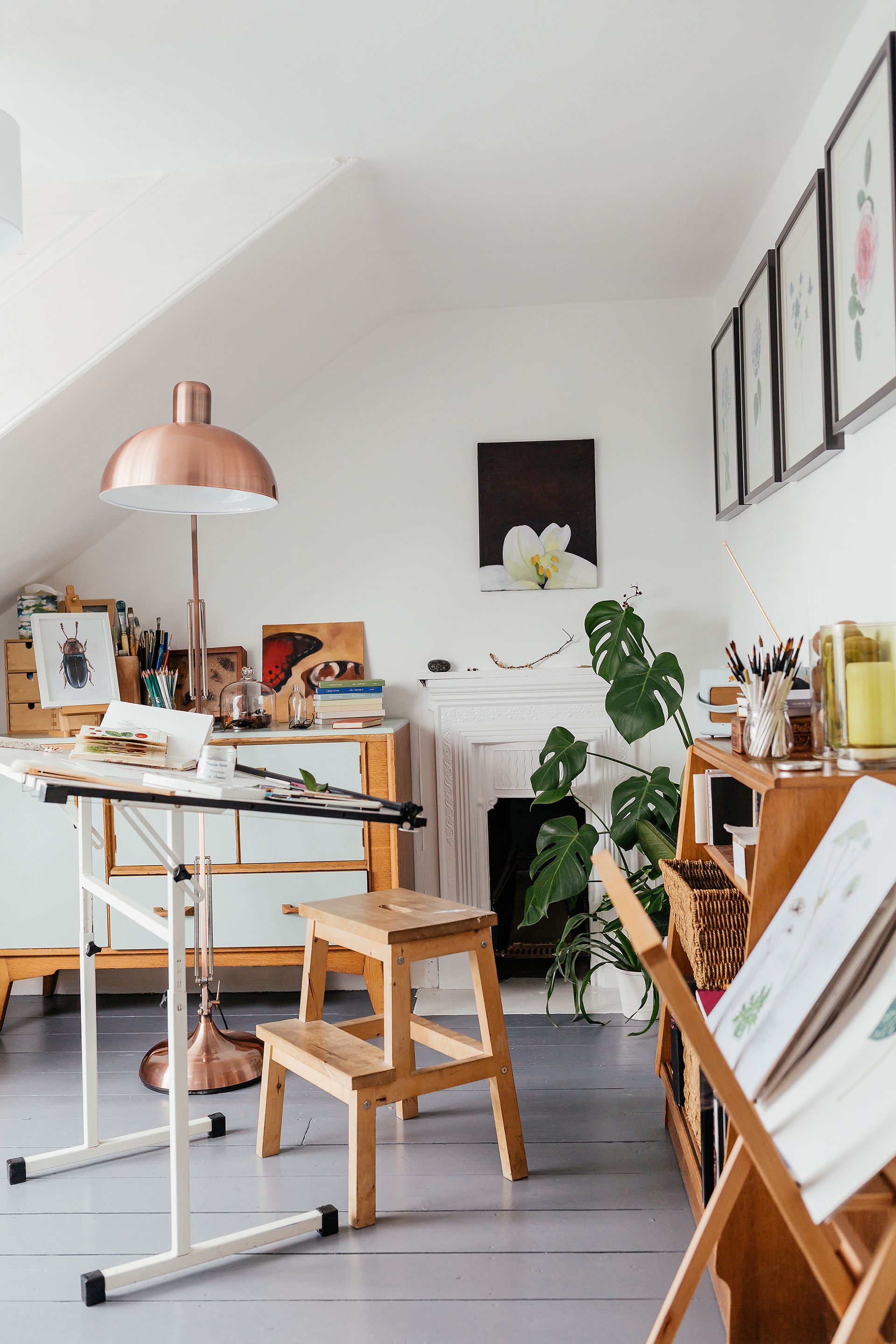 Create a dedicated space for pure indulgence in your favorite hobby. Think of everything you need to make this space work; efficient lighting, practical desk, comfortable seating and very good storage. Remember, the sewing room should be a space of inspiration, so don't worry about scattered prints and paper work if it brings you joy and pleasure. This is the one place to really let your creativity shine. Use wall space to hang your favorite art, and choose a color scheme that will set the scene.
8. Introduce a riot of color and pattern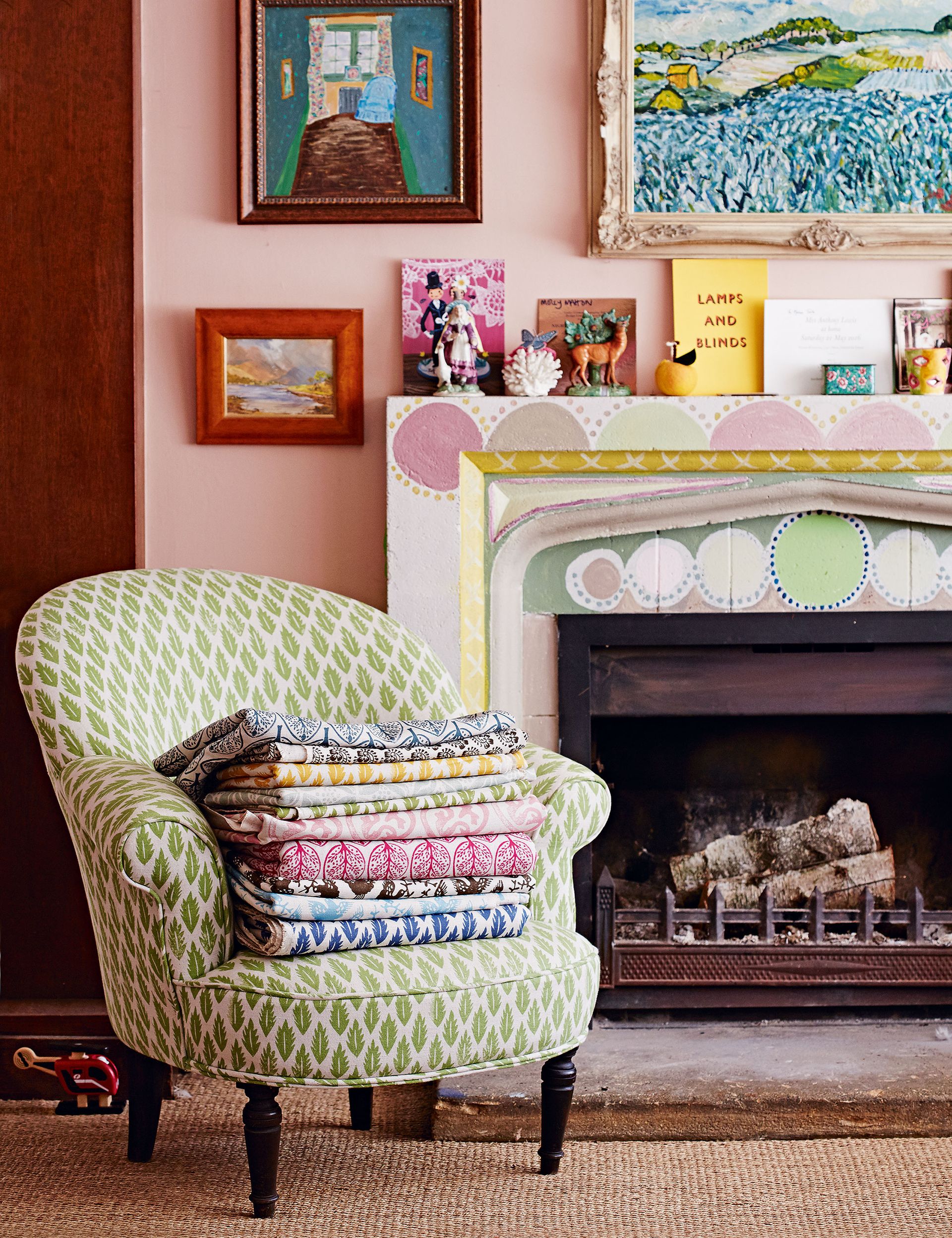 Bring together unusual patterns and color pairings for a space bursting with life and vibrancy.
Interior designers will often say they don't follow rules when it comes to decorating, but something useful to keep in mind is that colors never have to match, they just have to work together. 'I love unusual color pairings,' says textile designer Eva Sonaike who specializes in luxury African interiors. "My favorite combination at the moment is green and pink," she adds. "When in doubt, always look at nature and especially plants and flowers."
What do I need in my sewing room?
It is essential to put together a sewing room that delights and inspires; one you'll want to spend time in. Therefore, color should be your first priority. Choose a shade that will not only enhance your creative flow, but also catch the eye.
Second, it's worth taking inventory of everything you own, and what you still need. Good storage will never go to waste, especially if you opt for a truly custom option.
'Good lighting is essential – not just to ensure you look presentable on video calls, but to ensure your home office is functionally and aesthetically well lit.
'Finally, artwork on the walls, a carpet on the floor and plenty of houseplants will make the space feel welcoming and comfortable.