Fall aesthetics have changed over the past decade, from the classic orange and yellow theme to modern white with a hint of faded color. These days, designers are looking to reintroduce color with a twist. Deviating from the typical palette we often associate with the autumn season, colors with more eclecticism, vibrancy and naturalness are quickly entering the interior landscape.
So what colors are trending this fall? Below we share some of the best shades to decorate your space this season to create a beautiful fall aesthetic.
This year it's all about olive colors
It should come as no surprise that olive green is trending this season. Green has been named the color of the year for 2022 by some of the biggest names in the paint industry. Now, as summer comes to an end, this shade is making its way into fall decor. Sherwin-Williams' color of the year, Evergreen Mist, is the perfect shade of olive to invite into your space.
Green breathes life into its surroundings. And while many leaves are changing or falling outside, there is something refreshing about this vibrant hue indoors. Olive colors in particular are a perfect way to cling to the inspiring effect of green without the color clashing with your fall decor. Try surrounding your pumpkins and falcon pottery with lovely olive branches. Or, decorate your mantle with an olive-colored vine.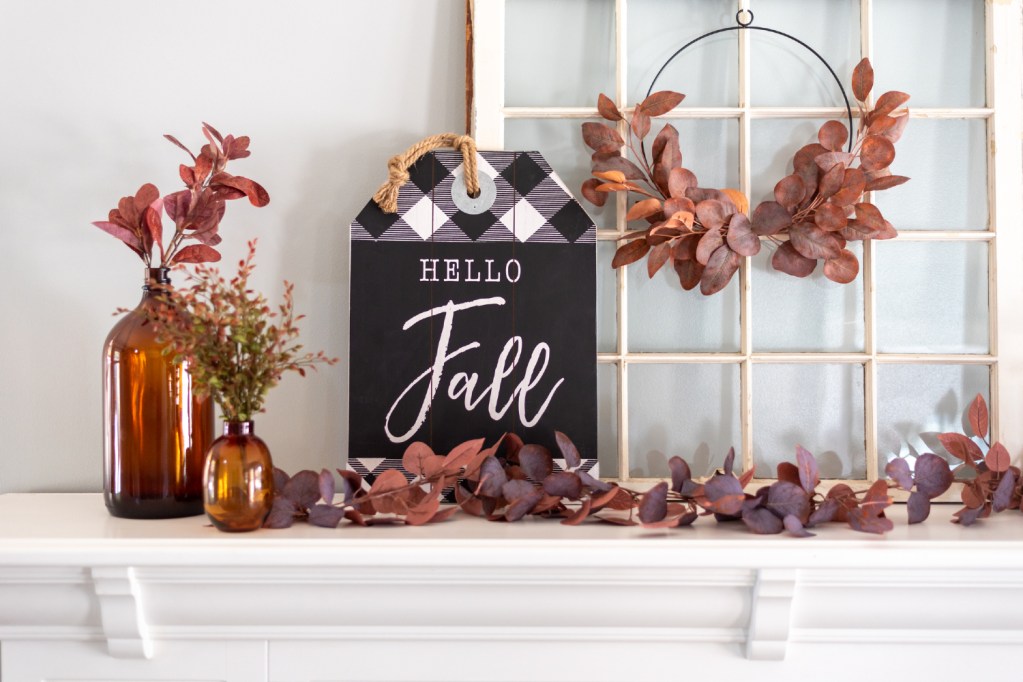 Plum and wine shades are trending
As we mentioned above, fall home decor trends are changing. Gone are the days of the simple yet classic fall palette. Now many designers rely on trendy jewel tones to create refreshing and inspiring looks.
Plum and wine shades have easily entered the home this season. From painted cabinets, wall accents, throw pillows and lush, vibrant decor pieces, these rich purple tones create an elegant and unconventional addition to fall home design. The velvety shades look best with the modern white fall aesthetic and with the aforementioned olive colors that are gaining popularity this season.
For inspiration on which plum and wine shades look best, we prefer Sherwin-Williams' color Blackberry and Glidden's Deep Plum. Both colors are luxurious and vibrant, perfect for creating a moody and cozy atmosphere in your home this fall.
Try dark blue for a soothing space
Navy blue also attracted attention this season. Typically found in winter color palettes, this shade has also slowly transitioned into fall color schemes. Navy blue is rich, deep and organic. It's the perfect accent tone for an eclectic fall palette. Along with light oranges, olive colors and many shades of white or cream, navy blue creates a striking look in any space.
Many farmhouse styles have begun to incorporate this color into their fall schemes. Blue table runners and place mats decorate the dining table while painted blue pumpkins rest next to delicate chinoiserie. If you've already added blue and white ceramic to your china cabinet, try bringing out this beautiful detail in your design by inviting navy blue into other areas of your space this fall.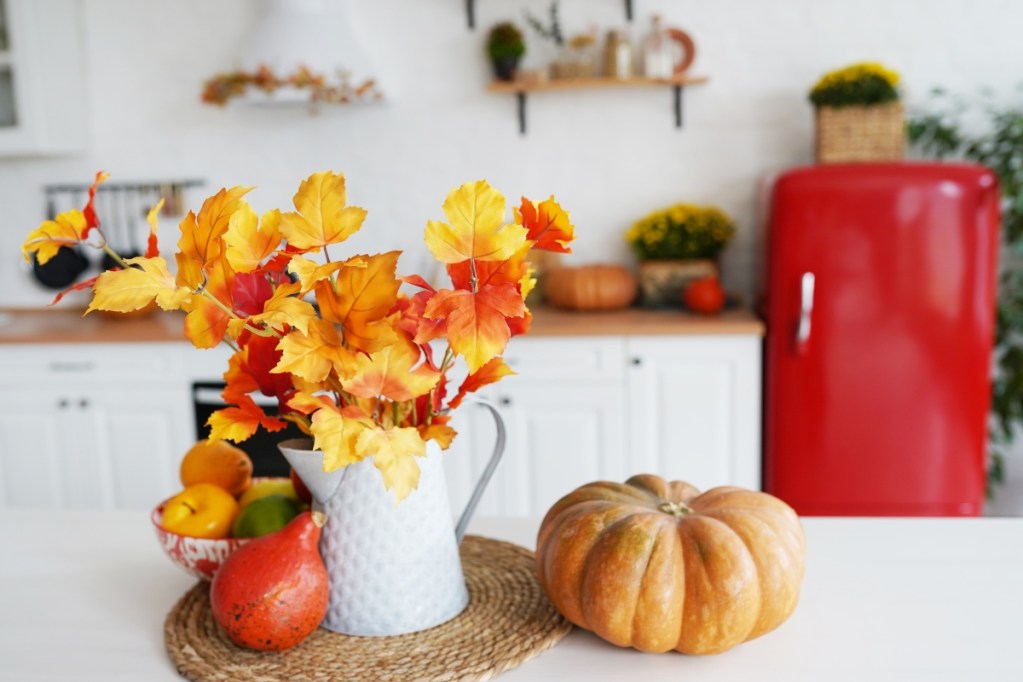 Orange is a must have
Bright orange has been a must-have in fall decor for quite some time. But nowadays, designers are shifting their attention to more muted and moody colors. Colors come in many shades, and orange is no exception. Pale and muted oranges with more white and creamy undertones are a fantastic addition to a modern fall color palette. Alternatively, many designers also gravitate towards darker oranges with deep, black undertones.
Fall Foliage by Behr is a great example of a darker orange shade. Slightly muted and full of depth, this color is perfect for those who prefer classic fall design but desire more sophistication in their decor.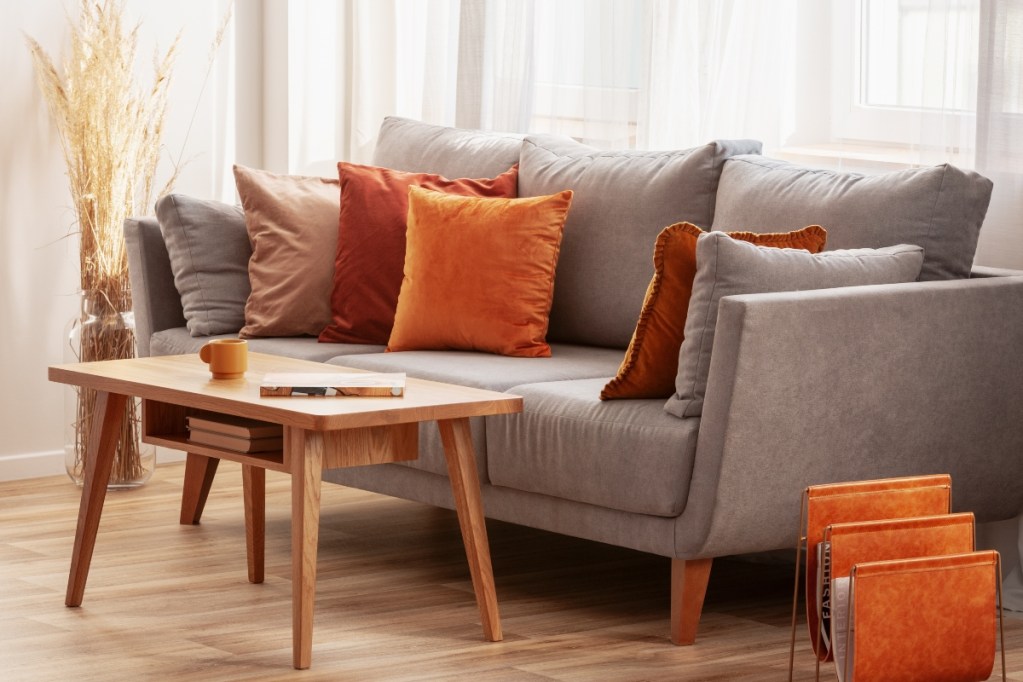 Clay colored shades offer a natural feel
Clay-toned shades have been popular for a few years now, but this is one of the first times we've seen them in fall design schemes. This year, people want an organic and natural feel to their spaces. Biophilic design, Japandi, and trends such as curved furniture have given home design a renewed sense of authenticity and naturalness. To lean into this vibrant transition, many designers are looking to more earthy colors like greens, browns and canyon hues.
Benjamin Moore's Brickyard Clay is a fantastic example of the reddish-brown colors entering fall home design. Often paired with maroons, pale oranges, and various shades of cream, clay colors bring warmth and comfort to fall decor.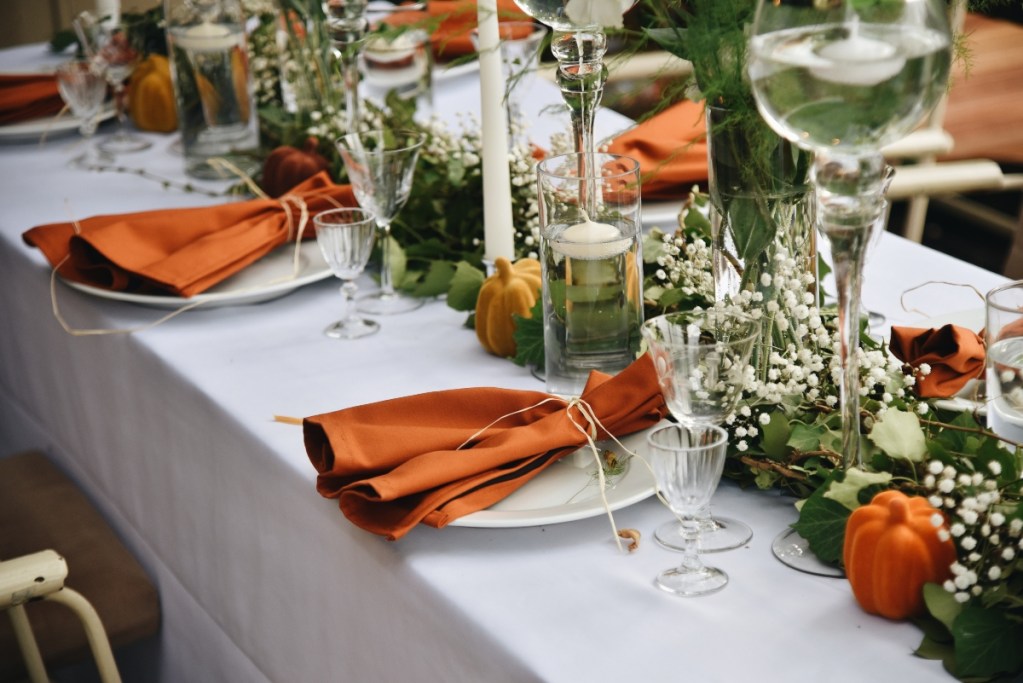 Russet brings warmth
Brown is another color that is here to stay in 2022 fall color palettes. With a deep red undertone mixed with warm and earthy browns, auburn shades are a compatible color for shades like cream, clay and olive green. Mayflower Red by Benjamin Moore shows how warm and vibrant these colors can be. Ideal for creating the perfect, cozy autumnal decor scheme, auburn shades can be seamlessly integrated with your existing decor. Whether it's through cushions, blankets or ceramics, this organic shade will add a comfortable vibe to your space.
Many paint companies have shared their colors of the year, as well as the new and beloved jewel tones that have revolutionized the palettes seen in interior design. So there's plenty of inspiration to draw from, whether you want a more earthy and grounded approach to fall color palettes or prefer the vibrant and moody jewel tones trending this season. Try incorporating one of these new colors into your space this fall season to revamp your traditional decor. And always remember to opt for a cozy and natural aesthetic to stay on trend this year.
Editors' recommendations